This podcast is brought to you by BiOptimizers our digestion expert sponsors upgrade your digestion for optimal recovery and better nutrient uptake with MassZymes. Get 23-45% off plus an additional 10% off and 1 free bottle of HCL Breakthrough when you checkout the MassZymes here.
This podcast is brought to you by Gasp! Top notch quality training wear, Muscle Expert approved training gear!
Get 10% off when you use the discount code BEN10 at checkout at Gasp Online Today!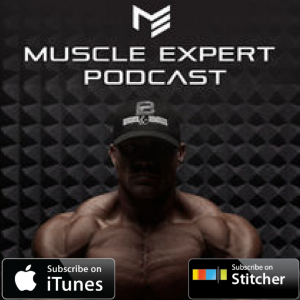 Subscribe on iTunes, Tunein, or Stitcher Radio!
Love the podcast? Leave a review in iTunes!
Who would you like Ben to interview? Tell us here!
A true world class expert in sports performance nutrition, and supplementation shares his wealth of knowledge, experience and expert advice on the podcast today. Be ready to take some notes, because class in session…
Shawn Wells, CEO of Zone Halo Research and Chief Science Officer (CSO) over R&D, Quality Control, and the Regulatory departments of the top non-GMO & natural dietary supplement company in the industry, BioTRUST Nutrition joins Ben to discuss how to extend life and improve the quality of life as you age.
About Shawn (Official Bio From Website)
"Shawn attended UNC-Chapel Hill, earning a Master's Degree in Nutritional Biochemistry and minor in Exercise Science. His education along with credentials of Registered Dietitian and Certified Sport Nutritionist (CISSN), distinguished him as an expert in performance nutrition. Shawn has held the role of Chief Clinical Dietitian with over a decade in acute and skilled nursing care, grounding his ethics and practice of patient focused care."
What You Will Learn:
The keys to optimizing insulin sensitivity to vastly improve the quality of your life as you age. Leucine thresholds as you age and more.
LSD and micro dosing and essential advice for someone interested in experimenting with it and using it effectively.
How ketogenic dieting influences cancer.
What food scientists do to keep you coming back for more junk food and never feeling satisfied.
Fasting and losing muscle? The truth from an expert.
Time Stamps:
4:20 – Preventing muscle loss, dementia and alzheimer's, important measures to take when you're younger to bulletproof your later years.
6:00 – Creatine for brain function, bone mass and muscle mass.
8:00 – Mitigating insulin resistance. Leucine thresholds as you age.
10:10 – Sarcopenic obesity, trading muscle for body fat.
13:10 – Keto and insulin resistance. Metabolic flexibility and more.
15:35 – Food Scientists and the "bliss point".
17:25 – Berberine, reducing insulin response and optimizing glucose uptake.
22:10 – The only carbs Ben eats.
24:20 – How ketogenic dieting influences cancer.
29:50 – Neuroinflammation and brain fog. Growing new neurons with the ketogenic diet.
34:30 – Key habits for mastering food and the cognitive benefits of the ketogenic diet
36:50 – Fasting and losing muscle? The truth from an expert.
41:10 – Micro dosing LSD. Nootropics and improving brain function.
42:55 – Shawn's experience with micro dosing.
44:45 – Ben's LSD experience. Plus crucial a warning for those who are looking to experiment with it.
49:50 – The line between supplements and pharmaceutical.
55:40 – Ibuprofen and increased cardiovascular risk for heart attack 3 fold?
Resources Mentioned:
Creatine
Berberine
Follow Shawn: