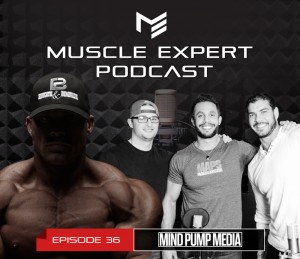 This podcast is brought to you by BiOptimizers our digestion expert sponsors upgrade your digestion for optimal recovery and better nutrient uptake with MassZymes. Get 23-45% off plus an additional 10% off and 1 free bottle of HCL Breakthrough when you checkout the MassZymes here.
This podcast is brought to you by Gasp! Top notch quality training wear, Muscle Expert approved training gear!
Get 10% off when you use the discount code BEN10 at checkout at Gasp Online Today!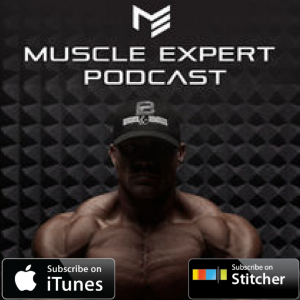 Subscribe on iTunes, Tunein or Stitcher Radio!
Love the podcast? Leave a review in iTunes!
Who would you like Ben to interview? Tell us here!
If you thought round one was great, then round two is like winning the Olympia. Join The MindPump crew, Alvin Brown and B Pak on at very in depth conversation about everything.
Ben, Adam, Sal, Alvin and Justin cover the mental, physical and recovery techniques, tactics and mindsets for building extreme muscle, 10xing your sleep, modulating your stress response for better training results, reducing cortisol and mastering your life and happiness.
Timestamps
4:30 – Ben's training with Haney Rambod
7:00 – Why Ben hired Haney. Overtraining and changing the stimulus.
9:31 – Adrenal fatigue, overtraining and the symptoms. Pushing the gas pedal too much.
11:50 – Cortisol resistance? Testosterone resistance?
14:11 – The common patterns and types of clients every train runs into.
15:40 – The biochemistry of cortisol resistance. Periodizing your stimulus. Cryotherapy and the constant stimulation of cortisol.
16:50 – Why you wake up at night between 1 AM – 3 AM. What ancient chinese medicine, blood sugar spikes and more.
18: 32 – How to naturally reduce cortisol.
19:41 – Alvin Brown, Ben's former life coach, managing perceptions, The Upside of Stress.
22: 20 – Manipulating your stimulus for greater strength and hypertrophy training.
23:50 – When to transition, from strength to hypertrophy? The key factors.
29: 30 – Why you shouldn't do cardio after weights. How to better arrange your training.
30:30 – Controlling your breathing patterns intra set. How to control your heart rate and increase output per set.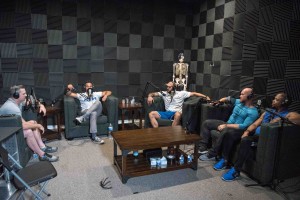 33:15 – Intra workout stretching is stupid. Do this instead. A tested and proven protocol for advanced hypertrophy gains.
37: 07 – The holy grail of hypertrophy..
41: 15 – Losing muscle, Creatine kinase decrease, Ben's testosterone lab results.
50:20 – Sleep hacking 1on1, the toxins effects of your mattress.
54:18 – Social lag, A possible 12% increase in heart disease and other disease.
56:20 – Meditating naked at 4:30 AM
58:34 – The silent epidemic, anxiety. Learning the coping mechanisms for managing and mastering your life.
1:04:30 – Meditation, energy, Being the observer.
1:06:30 – The Power of Now
1:09:10 – The concept of time. Shame guilt and resentment.
1:15:20 – Why you should fast more and do more "ball builder" workouts and stoicism.
1:19:30 – A great way to bond with your spouse pre and post sex.
1:22 20 – The greatest life hack period for bodybuilders, competitors and anyone looking to achieve more in life.
Resources mentioned
Follow Mindpump Media & Alvin Brown
@mindpumpmedia
@mindpumpsal
@mindpumpadam
@mindpumpjustin
Alvin Brown