This podcast is brought to you by BiOptimizers our digestion expert sponsors upgrade your digestion for optimal recovery and better nutrient uptake with MassZymes. Get 23-45% off plus an additional 10% off and 1 free bottle of HCL Breakthrough when you checkout the MassZymes here.
This podcast is brought to you by Gasp! Top notch quality training wear, Muscle Expert approved training gear!
Get 10% off when you use the discount code BEN10 at checkout at Gasp Online Today!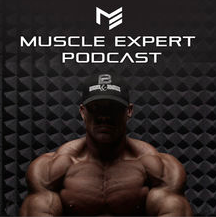 Subscribe on iTunes or Stitcher Radio!
Love the podcast? Leave a review in iTunes!
Who would you like Ben to interview? Tell us here!
INTRO:
Today on the Muscle Expert podcast Ben Esgro, CEO and founder of De Novo Nutrition, joins Ben to dive deep into neurotransmitter health, brain focus, chemistry, performance, pharmacology and the future of scientific research.
In this Episode:
5:39 – Serious back injury, maximizing time, studying chemistry textbooks between sets.

8:20 – Self growth, Pharmaceutical Chemistry, the parallels of training and life challenges.

11:00 – Pushing through plateaus, flirting with the line of overtraining your mind and body.

16:29 – Learning from first principles. Elon Musk and Where to start when learning anything.

26:00 – Finding a groundbreaking compounds and supplements to push human performance.

31:10 – FDA regulations is it a drug or a supplement? Where the line is drawn.

33:30 – Creativity when formulating supplements. How to make a better product.

36:55 – Neurotransmitter control, coding new proteins and protein turnover

45:10 – The downside of nootropics and smart drugs, precursors vs ligands

51:20 – The Edge Effect & Neurotransmitters Health.

52:25 – Yoga, rhythmic breathing patterns, counting breaths to reduce stress instantly

56:00 – How money influences the research on muscle building, health and fitness.

1:04:00 – Utopian and optimizing the 4 key neurotransmitters.

1:11:30 – Pre workout stimulants, what to optimize first for better workouts without out stimulants.

1:15:40 – Rapid fire questions, maximizing performance, night rituals and sleep hacks.

1:20:23 – Ben's top books from Einstein and the creator of Ecstasy.
Resources Mentioned In The Episode:
De Novo Nutrition (USE COUPON CODE "muscleexpert" at checkout for entry into a DN product GIVEAWAY!)
FOLLOW DE NOVO Nutrition
People Mentioned In The Episode: